International Top Talents Committee
--Accelerate Talent Recruitment and Upgrade Industrial Transformation
We aims to expand overseas top talents resources. The Committee have been working with more than 130 high-level talent agencies, expert groups and students associations. We also set up branches in other cities.
We reserves more than 100,000 technological elites in bio-medicine, new energy, big data, and IT fields in America, Britain, Canada and Australia, storing over 11 million information of talents resources, including more than 4,000 experts from Russia, Belarus and Ukraine, over 12,000 German manufacturing personnel, 7,000 high-tech talents who have been studied in the United States for 20 years...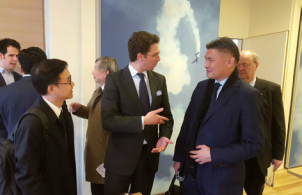 We organized a group of entrepreneurs to visit Germany, and exchanged with the leaders of the German SME Association, German talents and patent agencies.

Foreign Academicians and Senior Experts China Tour (Weifang): we Introduced British hydraulic pressure experts to cooperate with Shandong Tianrui Zhonggong and founded International Technology Transfer Center.