Overseas Returnees Committee
Overseas Returnees Committee
Extensive contact with academic associations of countries, regions and prestigious universities around the world, as well as numerous professional associations and science and technology institutions to promote the return of overseas students to innovate and start their own businesses and realize their dreams. Promote local new industries and new kinetic energy. Relying on Global Talent Network, we will build a smart service platform for high-level talents at home and abroad to communicate with domestic employers to achieve better matching.
We cooperate with Zhejiang Experts and Overseas Students Service Center to hold "Overseas Young Talents Zhejiang Tour"(into the Zhijiang Laboratory).
Under the guidance of the Overseas Students and Expert Service Center of the Ministry of Human Resources and Social Security, the "Global Good Talents, Innovate Good Projects" collection and promotion activities have been carried out. The "Young Talents Introduction and Training of New Industries and New Kinetic Energy" forum was held to launch 15 "The Most Promising Overseas Student Entrepreneur".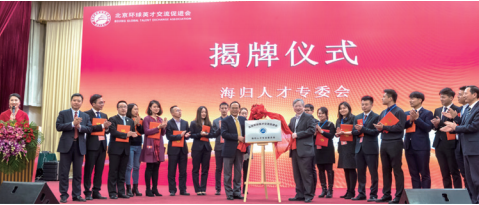 Unveiling Ceremony Of Overseas Returnees Committee, Jan 21st, 2018. vitnessed by representatives over 30 Students Federations.